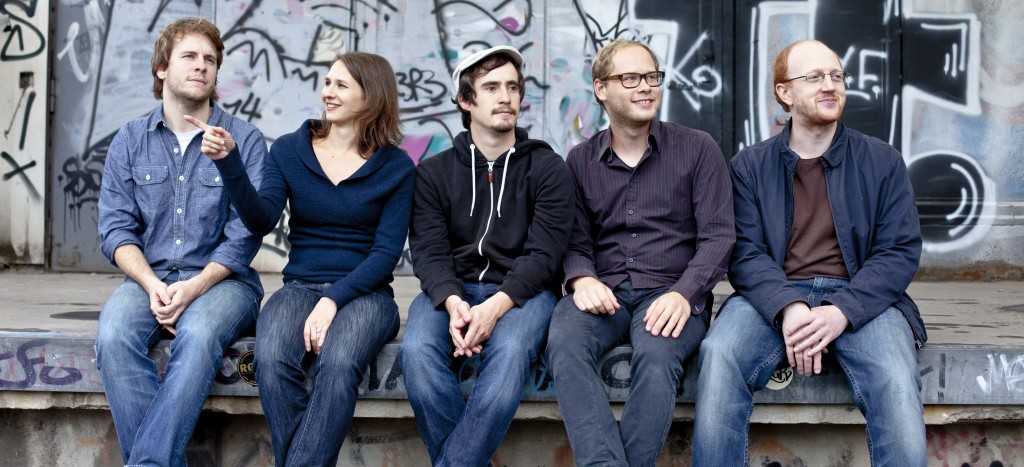 CC5 was created in Amsterdam in 2006 by the saxophonist Christine Corvisier who composes a modern progressive jazz repertoire for it. In the same time energetic and lyrical, this band really leaves a special and original footprint in the current jazz scene, not only of Cologne where they are located but also in France (Paris, the French Riviera), Monaco, Luxemburg and the Netherlands.
They recorded a first demo in June 2006 called Melting Pot and released their 1st album "Walking Around (EBF)" in may 2008.In 2015 their new album "Reconnaissance" was released by the swiss label "Unit Records" and got very good critics from many Jazz magazines like Jazzthing, Jazzpodium etc
They are about to record a new Album in 2021 for a new project "Chansons de Cologne" where the reinterpret and rearrange great famous french Chansons of Edith Piaf, Charles Aznavour, Nino Ferret and many others.
CD: "Reconnaissance" (2015): click here to BUY CD
"Christine Corvisier (…) brilliert am Tenorsaxophon mit fettem Sound und überzeugt darüber hinaus mit intelligenten Kompositionen "
Westdeutsche Zeitung , Klaus M. Schmidt
"Hier zeigt sich bereits eindrucksvoll ihr großes Talent für das Tenorsaxophon und sie stellt unter Beweis, dass anspruchsvoller und zeitgenössischer Jazz für den Hörer durchaus nachvollziehbar sein kann, sogar groove haben darf "
"Mitreißende Kompositionen und überzeugende Musiker"
Jazzpodium, M.Schweingruber
"Begabt, ehrgeizig, ehrlich -et très joyeuse"
"hohen künstlerischen Anspruch an sich selbst"
JazzZeit, , D.Schlegel
"Die fragile Französin, in Köln beheimatet, bläst ein überraschend energisches Tenorsaxophon"
R.T, Jazzthing
Line-Up:
Christine Corvisier 1982 Perpignan, France
After her studies (1st prize "DEM" at the "Conservatoire de Nice" – France – and "Bachelor of Jazz" at the international "Conservatorium van Amsterdam" – Netherlands) She quickly made a name for herself in the jazz scene of Benelux, France and Germany where she frequently plays concerts with various projects. In 2008 she won the Price "Young Talent of Alpes Maritimes" and released her first album "Walking Around". During a trip to New York in 2009 she had lessons with saxophone masters like – among others –  Joshua Redman, Chris Cheek, George Garzone, David Binney, Donny McCaslin which considerably accelerated her musical developpement.
After she moved to Germany in 2010 she founded a new quintet with some of the best musicians of the Cologne jazz scene. She was quickly recognized beyond the borders of the region as a virtuosic but at the same time melodic improviser and composer.
Martin Schulte (Guitar)
Cologne based guitarist Martin Schulte (*1979) is one of the most asked-for guitar players of the jazz scene in Western Germany. With his guitar rifts, this "brilliant instrumentalist" (Westdeutsche Zeitung), traverses the spaces between modern jazz, rock and funk.
Born in Duisburg, Martin Schulte has quickly become an important part of the dynamic Cologne jazz scene. His much appreciated presence comes from his ability to be free with musical style, his deep feel for improvisation and his dexterity in moving between tension, intensity and relaxation. Forming his own musical style gained important impetus not only through his study of jazz guitar at the Hochschule fuer Musik und Tanz in Cologne, but also from lessons by international jazz celebrities such as John Abercrombie, Kurt Rosenwinkel, Hiram Bullock, Wayne Krantz, Peter Berstein and Ben Monder who says about Martin Schulte when he heard him playing the first time in New York: "He impressed me immediately as an extremely talented guitarist. I highly recommend him."
Sebastian Scobel (Piano)
Sebastian Scobel was born 1987 in Dresden. Raised in a family of musicians he started playing the piano at the age of six and attended the Heinrich-Schütz-Conservatory Dresden. He continued his studies of both classical and jazz piano at the Saxon State College of Music.
In 2007 Sebastian won the German Youth Jazz Award as best soloist as well as best group performance with his quartet "flaura & phona", which included a CD-recording at the Deutschlandfunk (German Broadcasting).
Since 2008 Sebastian lives in Cologne, where he studies jazz piano and Arrangement at the University of Music with Hubert Nuss, Florian Ross, Prof. Joachim Ullrich and Prof. Sebastian Sternal. Additionally he attended master classes with Simon Nabatov, Jim McNeely, Norma Winstone, Jürgen Friedrich and others.
Sebastian was a member of the German Youth Jazz Orchestra (directed by Jiggs Whigham) from 2012-2013 and is winner of the "Steinway Price Jazz" Northrhine-Westphalia 2013.
He is the founder of the "Island H. Jazz Orchestra" and member of various bands such as "Scobel-Kühnemann-Sauerborn" (Piano-Trio), "Mengamo Trio" (Hammond-Organ-Trio) and the "Filippa Gojo Quartet".
Due to his energetic and versatile playing, Sebastian is asked for as both sideman and leader, having concerts and tours in various countries such as the USA, Jordan, the,Carribean, Portugal, West Africa, Latvia, Poland, France, Austria…
David Andres (Bass)
David Andres (1984, Saarbrücken) plays double bass as well as electric bass and lives in Cologne, Germany.
He already played concerts in almost every European country – a.o. at renowned Jazzfestivals like North Sea Jazz. As a soloist, he was awarded first prize at the Jazzfestival Czestochowa (PL) in 2011 and in 2015 he won the first prize in the renowned "Neuer Deutscher Jazzpreis" competition with the quartet of Filippa Gojo. Besides playing concerts, he works as a teacher for double and electric bass and ensembles.
In September 2011, he finished his studies at the Cologne Conservatory of Music where he studied with Dieter Manderscheid, Michael Gustorff and Marius Goldhammer.
His playing can be heard on several recordings, that have been published on CD in the last years. Being invited by the Goethe Institut, he toured the Philippines and Palau in October 2011 with "The Willit Blend" and "Hot Brownies".
Thomas Sauerborn (Drums)
Born in 1987 He studied music and composition at the International Conservatory of Amsterdam, Conservatory of Cologne and with the "DAAD Scholarship" he got the opportunity to make a Master of Musical Study at the Rhythmic Music Conservatory of Copenhagen.
Through his european experience Thomas Sauerborn developped his own style, creativity and technique: he belongs to this minority of drummers who always serve the music by an extreme sensitive musical and awarness.
He won several prices like the first price of "Jugend Jazzt"(national Competition), the "JazzMe" award and became the drummer of the "Bundes Jazz Orchester "(National jazz orchestra) in 2010.
Currently based in Cologne he is composing, recording and especially touring a lot (China, the Philippines, Palau, Syria, Lebanon, Jordan, Palestine, South Korea, Vietnam, France, Lithuania, Belgium, the Netherlands, USA, Benin and Denmark) with many different artists and with its own projects.
During the last years he got the opportunity to play with amazing musicians like Gwilym Simcock, Herb Geller, New York Voices, Jeff Cascaro, Glenn Miller Orchestra, Paul Heller, Claudio Roditi, Jiggs Wigham and many more.