Rundfunk Tanzorchester Ehrenfeld von Jan Böhmermanns Neo Magazin Royal, ZDF:

Since 2 years, Christine Corvisier is often asked to play in this orchestra who's weekly performing for the big german television channel ZDF.
Neo Magazin Royal started on ZDF Neo and got so popular and successful that it moved to ZDF since November 2020.
The Band is always playing songs related to the actual news and guests invited at the show. The arrangements are all originals from Lorenz Rhodes , Musical Director of the orchester and Christine Corvisier is performing all kinds of instruments during the show: Tenor, Alto, Baritone Saxophones, Clarinet, Bass Clarinet, or Flute.
---
Christine Corvisier Solo Project:

The classical musical director Michel Rychlinski contacted Christine Corvisier to perform a solo program for the project "Chansons ohne Grenzen" sponsored from the city of Cologne as much as the culture ministry of North Rhenania from Germany. He's conducting a vocal ensemble who's performing the work of Debussy, Hindemith,Ravel etc and wished to have Jazz Saxophone solo pieces between the choir songs.
The challenge was quickly accepted and got very well received from the audience and critics.
---
Guildo Horn & die orthopädischen Strümpfe:

Since 2018 Christine Corvisier joined the very famous german Band of the Eurovision contest's Star Guildo Horn.
She's performing there a real pop show in the character of "Mademoiselle Gazelle" where she not only plays the saxophone Tenor & soprano, but also plays the flute and sings: Backing vocals and Duo with Guildo Horn.
The Band is performing the whole year and offer the audience a very special Christmas show every winter in different cities of Germany.
---
Corvisier-Manesis Duo:

Christine Corvisier and Spyros Manesis (Piano) met in Amsterdam in 2006 but started their duo some years after during a tour in Val d'Isere (France). They started composing a special repertoire for this setting to allow the duo gainning in creativity, intensity and virtuosity.
They quickly started to perform on beautiful international scenes like Vive le Jazz Festival (Köln, D), Domicil (Dortmund, D), Ionian Center (Athens, Gr), Beton 7 (Athens, Gr). The duo is about to release their 1st album "First Takes" recorded during their last tour in Greece in February 2015.
---
The Brams: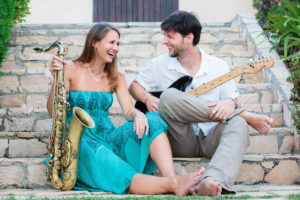 Husband and wife, Christine Corvisier and Philipp Brämswig (Guitar) also keep on sharing the love of Jazz Music and are regularly performing in duo a repertoire mostly of Jazz Standards.
---
Tom Lorenz & Shorter Stories
---
CMB Trio:

CMB is one those very rare and refreshing Trio projects that catches your attention right away.
Not only because of the intense interaction and energy between those three great musicians, but also because of the beautiful songs composed by Stefan Michalke (Piano), Stefan Berger (Bass) and Christine Corvisier (T.Sax).
Starting from Jazz, but going through World, Pop, Classical Music and a detour on Tango, CMB Trio offers you a fantastic journey of Music.
more infos under www.stefan-michalke.com
---
Gero Körner 4tet:

"Back to the roots": that's the motto of this band led by the great piano player Gero Körner.
Indeed the 4tet presents a repertoire from the 50's and the 60's going from Boogaloo till Wayne Shorter that's very much enjoyable as much for jazz listenners as for people without any knowledge of jazz music.
The band just recorded a demo and is especially performing in North Rhine Westphalia where they're based.